Never miss an important update on your project
An important part of Agile project management is being able to quickly adapt to changing requirements. This latest release introduces notifications, which allow you stay up-to-date with what's happening across your projects. You can now specify general notification settings for your project, as well as subscribe to individual Cards, Epics and Tickets.
Notifications inside of Zube will appear in the header under the bell icon. The notification icon will turn blue with a red dot when you have unread notifications.
To change your notification settings, head to your Project's Settings page and click the notifications tab where you'll see the notifications options for Cards, Epics and Tickets. You can chose what level of notifications you'd like to receive for each item both via email and inside of Zube. There are three notification levels:
Following: Following means that you will receive notifications for all important events for Cards, Epics or Tickets such like when a Ticket is created or the status of a Card changes.

Not Following: Not Following means that you will only be notified when you are subscribed to; @mentioned within; or assigned to a Card, Epic, or Ticket. This is the default setting.

Muted: Muted means you will not receive any notifications unless you are subscribed to individual Cards, Epics or Tickets.
You can change which email address you'd like your email notifications sent to from the settings page as well.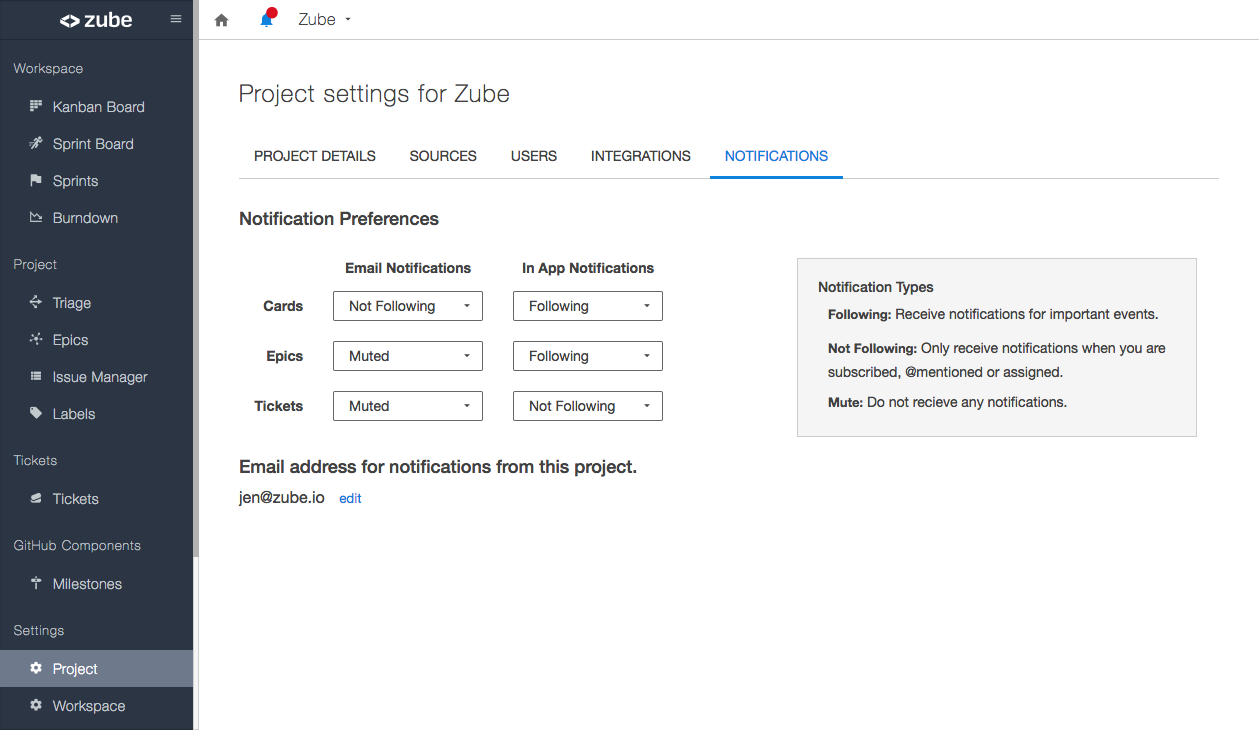 We've also released a Slack integration! You can now be notified of important events on Zube via Slack. To integrate Zube with Slack, head to the Project Settings > Integrations page, click the Add To Slack button and follow the authentication directions.